Venerdì sera -- 01.04.05 -- Von Heute bis Morgen + Soup Dinner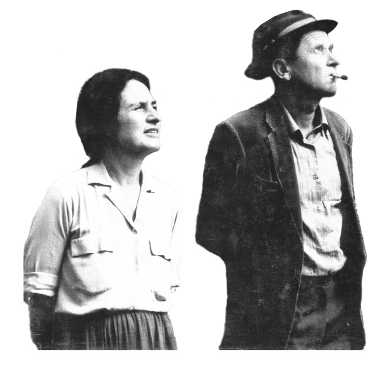 Tematica:
1. Su questo venerdì
About this Friday
2. Sul film che vedremo
About the film
3. Per una possible discussione
For a possible discussion

Links:
http://ark.cdlib.org/ark:/13030/ft4m3nb2jk/
http://www.brdf.net/sicilia/les_straub_daney.htm
___________________________________________________
1. Su questo venerdì
Cosa: proiezione del film e soup-dinner
Quando: 7 pm proiezione del film
9 pm (soup-dinner) , venerdì 1 Aprile 2005
Dove: Via Duodo n.4 Lido di Venezia (VE)
Scendere a Santa Maria Elisabetta (Lido), girare a sinistra (tenendo
la laguna sulla propria sinistra) dopo il primo ponte, inontrando sulla
destra la pompa di benzina, girare a destra (dopo le strisce pedonali)
in Via Duodo (sul campanello suonare Nuzzi)
Chi: tutti sono invitati. La zuppa è offerta dalla casa, ogni ingrediente arricchirà il suo sapore, a voi la scelta!
Proiezione del film Dall'oggi al domani di Danièle Huillet e Jean-Marie Straub (1997) e discussione durante la cottura della zuppa.
___________________________________________________
1. About this Friday
What: film projection and soup- dinner
When: 7 pm film projection
9 pm (soup-dinner) , friday 1 April 2005
Where: Via Duodo n.4 Lido di Venezia (VE)
Get off at Santa Maria Elisabetta (Lido), turn left
(the laguna on the left) after the first bridge, you will see a gas station,
turn right in Via Duodo (ring: Nuzzi)
Who: all are invited. The soup is offered from the house, each ingredient will make it richer, up to you the choice!
Projection of the film From One Day to the Next by Danièle Huillet and Jean-Marie Straub (1997) and discussion during the cooking of the soup.
________________________________________________
2. Sul film che vedremo
Dall'oggi al domani
Von Heute auf Morgen
Regia: Danièle Huillet; Jean-Marie Straub
Soggetto: Tratto dall' opera omonima di Arnold Schönberg
Musiche: Tratte dall'opera omonima di Schönberg
Interpreti: Claudia Barainsky, Ryszard Karczykewski, Richard Salter, Christine Whittlesey
Produzione: Max Schoendorff - Danièle Huillet, Jean-Marie Straub
Distribuzione: Non reperibile in pellicola
Anno:1997
Durata: 62'
_______________________________________________
2. About the film
Title: Von Heute auf Morgen (From One Day to the Next)
A film by: Huillet/Straub
Year: 1997
An opera in one act by: Arnold Schönberg
Conducted by: Michael Gielen
Libretto by: Max Blonda
Orchestra: Radio Symphony Orchestra, Frankfurt
Set designed by: Max Schoendorff, J.-M.S./D.H.
Camera: William Lubtchansky Irena Lubtchansky, Marion Befve
Sound: Lois Hochet,
Georges Vaglio, Sandro Zanon, Klaus Barm
Vocalists: Richard Salter, Christine Whittlesey, Annabelle Hahn (the child), Claudia Barainsky, Ryszard Karczkowski

Directors Daniele Huillet and Marie Straub shot their film in the formerly avant garde style of a Bertolt Brecht production, meaning that it's design is spare and formal; it is presented in a remote manner evocative of Schoenberg's modernist intellectual sensibilities. The opera is set on a soundstage, the camera positioned low and in the front as if it were filming from the proscenium; the stationary camera helps the audience focus on the opera without distraction. The story is about the argument between a wealthy couple who have just returned from a night of gaiety and socializing. The jealous husband (Richard Salter) accuses his wife (Christine Whittlesey) of flirting with a tenor. She accuses him of flirting with her friend. The combatants then engage in separate reveries of their potential new lovers. With the dawn however, the two reawaken and decide that they are much better off with each other.

________________________________________________
3. Per una possible discussione
da Landscapes of Resistance: The German Films of Danièle Huillet and Jean-Marie Straub, di Byg, Barton
Se non si è soddisfatti dell'irriverente rivendicazione per la quale Straub/Huillet semplicemente hanno l'intenzione perversa di "fare film per intellettuali che odiano i movies" , bisogna rispondere alla sfida per cui i loro film e la loro posizione presuppongono un'elaborazione teorica. Non interpretano la mancanza di una vasto pubblico ai loro film come demerito dei film stessi, piuttosto come risulato della dominazione del mercato multimediale per i prodotti dell'industria culturale. Non rispondono a questo compromettendosi con le convenzioni che renderebbero i loro lavori più accessibili, ricorrendo ad un atteggiamento all' "arte per l'arte", o accettando un livello elementare di significazione postulato dal postmodernismo. Sono, comunque, estremamente critici nei confronti dei registi che si sono compromessi, secondo il loro punto di vista, per poter raggiungere un vasto pubblico, per esempio, Fassbinder e Wenders. Comunque non criticano i film di Godard, anche se potrebbero essere in disaccordo, poiché anche il suo lavoro ha avuto difficoltà di distribuzione. ("Se tutti i film fossero stati come i suoi", forse avrebbero criticato anche Godard). Da parte loro, Straub/Huillet insistono sulla precisione documetaristica, un impegno determinato ad una visione della storia redentrice, e la ricerca di uno spettatore liberato che possa diventare il soggetto storico che fino ad ora è stato cancellato dai diversi modi di espressione. In questo preciso punto il loro lavoro si interseca con alcune recenti discussioni a proposito di Brecht, Benjamin, e Adorno.
Per leggere oltre al sito
http://ark.cdlib.org/ark:/13030/ft4m3nb2jk/
da Les Straub, di Serge Daney
Straub non ha mai dato ricette (un po', forse, per Chronique d' Anna Magdalena Bach, 1967) ma i suoi film hanno spesso fatto paura. Questo modo di prendere il cinema con tutto il corpo - corpo e anima- è veramente troppo lontano dalle teorie della comunicazione molle e del target obbligato di cui si parla nella showbz. Troppo « duro », troppo semplice. E per di più, gli Straub hanno avuto la cattiva idea di non presentare mai il loro lavoro come « marginale » ma - sfumatura- come minoritario. Non sono allo stesso tempo in un ghetto ma da dove sono, sono legati al Cinema come al filo di Arianna.
Per leggere il testo integrale al sito
http://www.brdf.net/sicilia/les_straub_daney.htm
da Con e contro il Cinema , Internazionale Situazionista #1 (Giugno 1958)
Il cinema si presenta così come un sostituto passivo dell'attività artistica unitaria che adesso è possibile. Esso conferisce poteri inediti alla consunta forza reazionaria dello spettacolo senza partecipazione. Non si teme di affermare che si vive nel mondo che conosciamo per il fatto che ci si trova al centro del miserabile spettacolo, "perché se ne fa parte integrante". La vita non è questo, e gli spettatori non sono ancora venuti al mondo.
(...)
Possiamo considerare due usi distinti del cinema: in primo luogo, il suo impiego come forma di propaganda nel periodo di transizione presituazionista; poi il suo utilizzo diretto come elemento costitutivo di una situazione realizzata.
Il cinema è così paragonabile all'architettura per la sua importanza attuale nella vita di tutti, per le limitazioni che gli impediscono di rinnovarsi, per l'immensa portata che la sua libertà di rinnovamento non può mancare di avere. Bisogna trarre vantaggio dagli aspetti progressivi del cinema industriale, come da un'architettura organizzata a partire dalla funzione psicologica dell'ambiente si può estrarre la perla nascosta del letamaio del funzionalismo assoluto.
_______________________________________________
3. For a possible discussion
da Landscapes of Resistance: The German Films of Danièle Huillet and Jean-Marie Straub, di Byg, Barton
If one is not satisfied with the flippant claim that Straub/Huillet merely have the perverse intention of "making films for intellectuals who hate the movies," the challenge that their films and their artistic stance presents to aesthetic theory must be answered. They do not see the lack of a large audience for their films as the fault of the films themselves but rather as the result of the domination of the media market by products of the culture industry. They do not respond to this by compromising with the conventions that would make their films more accessible, by resorting to an "art-for-art's-sake" posture, or by accepting the ungroundedness of signification posited by postmodernism. They are, however, very critical of filmmakers who have compromised, as they see it, to reach a mass audience, for example, Fassbinder and Wenders. However, they do not criticize Godard's films, even though they might have disagreements, because his work also has difficulty getting distribution ("If all films were like that," perhaps they would even criticize Godard). [1] For their part, Straub/Huillet insist on a documentary accuracy, resolute commitment to a redemptive view of history, and a search for a liberated spectator who could become the historical subject that until now has been obliterated by various modes of oppression. Here is the point at which their work intersects with recent discussions of the contemporary relevance of Brecht, Benjamin, and Adorno.
(...)
The materialist self-discipline Straub/Huillet exercise in making films has made it difficult to categorize them among the other filmmakers of the "New German Cinema." Many critics are unable to reconcile Straub/Huillet's professed radical politics with the lack of explicit political messages in their films. Martin Walsh writes, for instance, "Straub/Huillet do, it seems to me, manage to 'suspend meaning,' but that very suspension eliminates the possibility of any didactic political statement--and this perhaps begins to explain the gap between the vision of their films encountered in interviews with them, and an actual experience of certain of their films." [7] This "gap" is inherent to the political honesty of Straub/Huillet's aesthetics. Merely to satisfy the audience that exists would abandon both aesthetic and political progress. Yet even the negation of what is, in aesthetic or political terms, is "a necessary but not sufficient condition." Therefore Straub insists, "I don't believe in the cinema." [8] Joel Rogers summed up the challenge to theory posed by Straub/Huillet as follows:
(...)
When Straub/Huillet "answer" their critics, they make implicit appeal to a certain analysis of capitalist society and the possibilities of autonomous production within it. Without the analysis, the answers remain incoherent, but the articulation of the analysis is not something they themselves have pursued in print. Instead they make films.
(...)
Peter Gidal criticizes Straub/Huillet from just such an ultra-leftist point of view. For him, the subversion of traditional narrative in their films is not radical enough. Rather than dwell on the location of the spectator in relation to the film, which is the main aesthetic and utopian thrust of these films, Gidal sees a political imperative in the complete overthrow of representation. For him, the use of black leader to call attention to deletions is a false claim of equivalency. "Black leader = emptiness" is just as odious to him, apparently, as the devices of representing the bourgeois individual personality.
To read further go to website
http://ark.cdlib.org/ark:/13030/ft4m3nb2jk/
from In and Against Cinema , Internationale Situationniste #1 (June 1958) Translated by Reuben Keehan
http://www.cddc.vt.edu/sionline/si/cinema.html

Cinema is thus presented as a passive substitute for the unitary artistic activity that is now possible. It is the raw material used by reactionary forces for the spectacle of non-participation. We are not afraid of saying that one previously lived in the world because we know that one finds oneself without freedom in the center of a miserable spectacle having "been integrated into it." But that isn't living, and the spectators are likewise not in-the-world.
(...)
We can envisage two distinct uses for cinema: firstly, its utilization as a form of propaganda in the pre-situationist transitional period; and secondly, its direct employment as a constituent element of realized situations.
In its current importance in the lives of everyone, the limitations that ferment its renewal, and the immense significance of not doing without the freedom that this renewal can bring, cinema is somewhat comparable to architecture. It is necessary to take advantage of the progressive aspects of industrial cinema, and, just as in the organization of architecture in favor of psychological ambiance, we can extract the hidden gem from the dungheap of absolute functionalism.