Between us (AN EXPERIMENTENTIAL WORKSHOP BY 16BEAVER)
Artist Forum International

Public Moment / 2006

Project 1

Collective Expectations,Collective Potentials -- Justice

BETWEEN US
A project by 16 Beaver for (AFI 2006) Artist Forum International: Public Moment and (GB 06) Gwangju Biennial 2006.

CONTENTS:
1. How you can participate in this project
2. BETWEEN US events calendar
3. What is BETWEEN US ?
4. About 16 Beaver Group and participants in Korea
5. About Gwangju Biennial and Artist Forum International
For Full Korean Version please visit:
http://insaartspace.or.kr/cover/06_08_16_kr.htm

For Details About Gwangju:
http://www.gwangju-biennale.org/

__________________________________________
1. How you can participate in BETWEEN US
Between us ... a sea, a swamp, a fence, a wall, a war, a possibility for a meeting point for a ship for a ladder for a space of hope.
What lies between us is a potentiality to learn and the possibility to communicate, the silence and rumor across languages.
What separates us is also what binds us: We ask and look forward to speaking and thinking together about what lies between us.
For this short series of discussions, meals, walks, and other exchanges, we would like to consider with you the Korean context in relation to the crisis produced by two American exports, militarization and the rapid spread of the neoliberalist agenda. The divisions and polarizations that these two exports produce. The borders that are inevitably constructed to serve its purposes. To shed light on the ramifications of those exports. The south versus the north, a them and us that this can produce. An us and another us, and a talk in between us.
We invite you to come to the workshop days of Aug 18, 19, 20 with examples which examine militarization and the spread of the neo liberal agenda, be it in Korea or elsewhere. Please bring examples of your own and/or your friends, things you have found, anecdotes you can share, images, maps, videos, objects, or anything which you think/feel is part of related struggles and ideas.
The "presentations" we each will give will be short, informal and casual. We hope to learn about each other as much as we may learn about the common problems and questions which reside between us, in relation to the two exports and beyond.
We will also be seeking ideas for places to visit that clarify or manifest some of these issues in Korea, so we can add to them our own experiences and ideas. We hope that through the course of our shared inquiries on the first three days (Aug 18, 19, 20), we can decide upon a route or a number of specific places to visit together, or independently, in different groups or at different times between Aug 23 and 28.
__________________________________________
2. BETWEEN US events calendar
IMPORTANT: You do not have to speak English to participate in any part of this project. We will speak in many forms and many languages with constant translation in every direction.
Summary:
June 22-30: Seoul, PyeungTaek, Gwangju, South Korea (Past).
Coming:
August 18-20: Seoul, South Korea
August 23-26: Throughout South Korea, including border region with North Korea
September 8 - November 11: Installation at Gwangju Biennial 2006, Gwangju, South Korea
September 9: Seoul, South Korea BETWEEN US: The Experimental Seminar (August 18-20)
This part will most publically address the ideas of BETWEEN US. 16 Beaver Group members Ayreen Anastas, Rene Gabri, and Pedro Lasch will be present throughout all of these events, but the environment will be participatory and fluid, hopefully making all who come feel like we are BETWEEN US. Everyone is invited to come to the full three days, but you can of course also just come to one part of it or different parts and different times.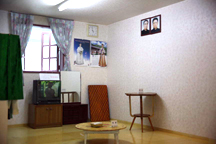 Fri Aug 18th, 6pm at INSA Art Space, Seoul
Brief 16Beaver introductory presentation with Ayreen Anastas, Rene Gabri, and Pedro Lasch, followed by dinner cooking and drinks.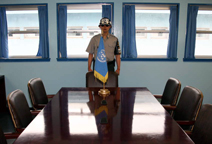 Sat Aug 19th, 1pm - 6pm Exchanges, discussions, open screenings, and other situations based on what everyone brings (see section 1. of this message).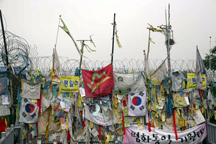 Sun Aug 20th 1pm - 9pm Meeting at INSA Art Space and departing to TOP SECRET LOCATION at different times in different groups
Vans and groups departing to TOP SECRET LOCATION from Insa Art Space at:
1pm, 2pm
All vans return to Seoul from TOP SECRET LOCATION at 8:30pm
Clues: TOP SECRET LOCATION is south of Seoul at about an hour distance and is related to the following sites:
http://saveptfarmers.org/
http://antigizi.or.kr/english/nobasept3.htm
http://www.peacenomad.net/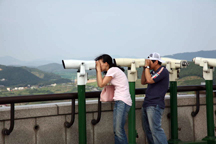 Wed Aug 23 to Sat Aug 26
Border with North Korea and other locations in South Korea
We will travel in a van with any interested individuals along border with North Korea and other sites people suggest during the first three days. Materials from this travels are integrated into Gwangju Biennial printed handout design and installation.
September 8 - November 11 at Gwangju Biennial 2006
We will collaboratively install objects, images, and distilled perceptions of the fluid encounters from the previous days, weeks, ideas, places.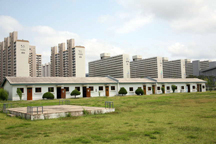 September 9 at INSA Art Space, Seoul
Rene Gabri from 16Beaver will participate in a discussion for
Public Moment: Artist Forum International (AFI), on the topics of Justice, Collective Expectations, and Collective Potentials
__________________________________________
3. What is BETWEEN US ?

IDEAS:
We have over the last years been exploring the possibility of a kind of experimental research theory and practice. This walk and its related activities would be part aesthetic intervention, part communicative scenario as well as an opportunity to research/explore a very specific theme in Korea.
Since 1989 the world has witnessed a rapid realignment of borders, shifting seemingly fixed alliances, growing number of free trade zones,and the subsequent emergent bodies of governance (i.e., the formation of economic blocs like EU or NAFTA). The first phase of these changes openedup new spaces of conflict, often pitting groups of people who had oncebeen neighbors into oppositional camps, rooted either in ethnic orreligious divisions. Nevertheless, with the tremendous technological expansions experienced in the mid to late 90's, a certain euphoriaemerged, particularly based on ideas of disappearing borders, a global community which was able to communicate and organize directly with one another.

The anti-globalization or global justice movements that arose within this period were partly feeding on these revolutionary changes, but also involved in exposing the hypocrisies of such euphoric rhetorics, particularly as rich nations continued to strap poorer ones with debt andexploitative initiatives. The events of September 11, 2001, introduced a new phase and these movements and "realignments" were handed a severe jolt, and the floating signifier of "security" became the operative word for those in power to reassert authority, and to now "protect" theserecently realigned borders.

Furthermore, greater focus and scrutiny was placed on the fringes of these borders, where complicity with the neoliberal agenda was not embraced so readily or where the claims to "self-determination" had not been heard. This new version of the Cold War would not pit modes of governance against one another (e.g., communism, autocracies, socialism, dictatorship,against democracy…), all would be included "on the same side", as long as they embraced the neoliberal program/agenda and were "against theterrorists."

This narrative outlines why border areas become interesting sites. Whether these borders are between Occupied Palestine/Isreal, Mexico/US, Armenia/Azerbaijan+Turkey+Iran, or North/South Korea, each introduce specific questions and interrogate common assumptions about the changes since 1989. We would like to invite anyone interested in the political, cultural, aesthetic, and social aspects of these topics to participate in the project.
__________________________________________
4. About 16 Beaver Group and participants in Korea
16 Beaver is the address of a space in New York's Financial Districtinitiated and run by artists to create and maintain an ongoing platform for the presentation, production, and discussion of a variety of artistic, cultural, economic, and/or political projects. Since its inception, the group has organized more than 300 events ranging in format from lunches, walks, and film screenings to artist presentations, readings, panels, and discussions.
A significant part of its activities is web based, please visit for a better idea.
Ayreen Anastas writes in fragments and makes films and videos. Pasolini Pa* Palestine (2005), m* of Bethlehem (2003), the Library of Useful Knowledge (2002) have been shown internationally in festivals, museums and cinemas but not yet broadcast on television. The new shorter Oxford English Dictionary was published in Rethinking Marxism, Volume 16, Number 3, July 2004. She has no affection for the proclamation of victory. Troubled by any image of herself, suffers when she is named.
Rene Gabri is interested in the complex mechanisms which constitute the world around us. He is often working alone or with others within the folds of cultural practice, social thought, and politics. Organizing public readings, discussions, and social activities has happened largely through his involvement with 16 Beaver (16beavergroup.org). Together with Erin McGonigle and Heimo Lattner, he also works with the name e-Xplo (e-Xplo.org). Their collaboration has resulted in a variety of public art projects and commissions exploring cities and the social, economic, and political forces which shape the organization of space.
Pedro Lasch was born and raised in Mexico City and then lived in New York between 1994 and 2002. He is now based in Durham, North Carolina. In addition to his individual work he leads on-going social, cultural and political projects with immigrant communities, grassroots organizations, and art collectives. He lives, thinks, and works through 'open routines.'
Collaborative works and projects by the artists have often emerged through their extensive work together at 16Beaver.
In addition to the participants from 16Beaver the following individuals have confirmed their participation in the program:
Kang Woo-sung , Kang Joo-ri, Kim Sang-don, Kim Ji-hae, Kim Jin-ju , Kim Hye-jin , Kim Heejin , Well, Nero, Danji,
Doo shigan, Moon-na, Moon Seong-yong, Park Hye-yeon, Ahn Jung-ju , Yang Sung-yoon, Yuh Da-ham, Yeum Hae-jo,
Ryu Ju-yeon, Yoon Bo-ra, Lee Sun-ae, Lee Yae-ju, Lee Won-jae, Lee Eun-shil, Jang Yong-suk, Choi Gene-uk , Choi
Moon-jung , Pyo Hyung-ryul
__________________________________________
5. About Gwangju Biennial and Artist Forum International
The Last Chapter_Trace Route: Remapping Global Cities, Gwangju Biennial 2006
September 8 - November 11, 2006
(Opening: September 8th)
Curator: Jee-sook Beck
Biennale Hall, Jungoei Park, Gwangju City, South Korea
http://www.gwangju-biennale.org/
Public Moment: Artist Forum International (AFI), South Korea, 2006
Section: Project 1 "Collective Expectations, Collective Potentials-Justice"
(Discussions: Aug 18,19, 20 and Sep 9 at Insa Art Space, Seoul)
Curator: Heejin Kim(16 Beaver), Bohyung Kim(Static), Cha Eun-young(Copenhagen Free University)
August 18 - September 17, 2006
INSA Art Space and various other locations, Seoul, South Korea.
http://www.ssamziespace.com/mail/mailing/web/index.html

For Full Korean Version please visit:
http://insaartspace.or.kr/cover/06_08_16_kr.htm
For more information please contact:
korea (at) 16beavergroup.org