04.22.2004
Comments Off

on Tuesday Night — 04.27.04 — Discussion — Andrea Geyer + Yates McKee
Tuesday Night — 04.27.04 — Discussion — Andrea Geyer + Yates McKee
Contents:
1. About this Tuesday Night
2. About Yates McKee's Presentation
3. About Andrea Geyer's Presentation
4. Additional Notes on the Evening (added 04.27.04)
___________________________________________________
1. About this Tuesday Night
What: Public Interview – Discussion – Screening
When: 7:00pm, Tuesday April 27th, 2004
Where: 16 Beaver St. NY, NY
Who: All are invited
This Tuesday night all are invited to what we hope will be one of the more interesting presentations/discussions we have had for some time.
The images of protest and contestation which have circulated around the peace and anti-globalization movements have been numerous and varied. Activists, artists, media outlets, and small/large corporations have all used/circulated/appropriated these images toward different ends.
This Tuesday, we invite thinker/writer/organizer Yates McKee and artist/organizer Andrea Geyer to discuss two recent projects which suggest (among other things) their positions/strategies in referencing, working with, thinking with, through or against such images of protest.
Please see descriptions of each presentation, written by Yates (2.) and Andrea (3.) below.
___________________________________________________
2. About Yates McKee's Presentation
This Tuesday Yates Mckee will present his paper "The Monstrosity of the World," which questions the status of the "global people" that demonstrated against the U.S. war on Iraq on Feburary 15th, 2003. Who or what embodies what Jonathan Schell called "the will of the world"? Can this enigmatic figure be "represented" according to conventional principles of political and aesthetic measure? Can the event be considered "sublime"? What do monsters have to do with ethics and politics? While theoretically speculative, these questions can hopefully become a point of entry for a broader discussion of the violent impasse in Iraq, the uncertain meaning of "democratization" on local, national and global scales, and the viability of "anti-war" as a political identity "one year later."


Because this talk will engage the work of Hardt and Negri, it might be useful for discussion participants to look at their recent "Why We Need A Mulitlateral Magna Carta":

http://www.16beavergroup.org/mtarchive/archives/000864.php
Also of relevance is Brian Holmes' discussion of the visualization of "the world":

http://www.16beavergroup.org/mtarchive/archives/000868.php
For the philosophically inclined, Kant's discussion of the sublime may be of interest:

http://etext.library.adelaide.edu.au/k/k16j/part6.html
For research materials on the February 15th demonstrations, go to
http://www.oneyearlater.org
(See especially Jonathan Schell's "The Will of the World" and Patrick Tyler's
"A New Power in the Streets")
For consistent news archives and critical analysis on Iraq go to
http://occupationwatch.org
On the little-known Conference for a Unified and Indpendent Iraq, see the following article:
http://www.occupationwatch.org/article.php?id=3534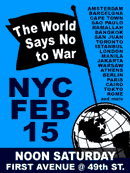 Bio: Yates Mckee is a writer in New York City. He co-curated the exhibiton Empire/State and has written on contemporary artists such as Alia Hasan-Khan, Allora & Calzadilla, and Thorne & Ressler.
___________________________________________________
3. About Andrea Geyer's presentation


andrea geyer will introduce her recent project Parallax, 2003. It
investigates the notion of "citizenship" and "national belonging" and their
role in creating individual and governmental spaces of action. It is staged
within the current political and social climate of large US cities.
for more information on Parallax please see:

http://www.secession.at/art/2003_geyer_e.html

http://www.davidreedstudio.com/agparallax.html
andrea geyer is a German artist who lives and works in New York..Recent solo
exhibitions include Secession, Vienna (2003), Galerie Paula Böttcher, Berlin
(2001), Galerie T-19, Vienna (2001), Parlour Projects, New York (2001),
LaPanaderia, Mexico City (2000); PS1 Project Space (with Sharon Hayes),
Queens, NY (2000). Groupshows include Open House, OK Centrum, Linz, Austria
(2004); The American Effect, Whitney Museum of American Art, NY (2003).
Manifest4, Frankfurt (2002), Contemporary Art Center, Pittsburgh (2002),
Kunstverein Lüneburg (2001), House of the Artist, Moskow (2001), White
Columns, New York (2000). She is a 2000 graduate of the Whitney Independent
Study Program. Next to her practice as an artist she has been involved in
various curatorial and organizational projects.
___________________________________________________
4. Additional Notes on the Evening (added 04.27.04)
1. Simon will be joining the us as a discussant for tonight's presentations.
Simon Sheikh is a critic and curator based in Copenhagen, Denmark. He was
director of OVERGADEN, contemporary Exhibition space of the cultural
ministry, Copenhagen, from 1999 to 2002. He is currently an assistant
professor in art theory at the Malmö Art Academy, Sweden, where he is head
for the Critical Studies Programme, an international one-year course for
artists, critics and curators, a joint venture btw. The academy and the
Rooseum in Malmö. Since 1996 he has been co-editor of Øjeblikket, a danish
magazine for visual cultures, and has since 1997 been writing for the
daily newspaper Information. (He is currently writing a number of articles
regarding the changing public sphere within cultural production in the
United States after the changes in civil liberties and freedom of speech
since 9-11 for said paper). His curatorial interest center around notions
of narration, space and publicity, particularly within public works and
the realm of video and film. Besides his work at OVERGADEN he has curated
larger group shows, such as I Confess, Copenhagen 1995, Compartments,
Copenhagen 1996, DIY – Mappings and Instructions, Vienna 1997, In My Room,
Paris 1998 and Models of Resistance, Copenhagen 2000. He has edited
anthologies such as The Meaning of Site, Ø, Copenhagen 1998 and We are All
Normal (and we want our freedom), Black Dog Publishing, London 2001, as
well as the forthcoming In the Place of the Public Sphere?, b_books, 2002
and a monograph on the work of Knut Åsdam, 2003.
2. 2 Additions to Yates McKee's presentation.
"Mankind cannot remain indifferent to its monsters"–Georges Bataille
+
Yates had a note with regard to which part of the Kant selection would be
most interesting in relation to his presentation.
"Kant's analytic of the sublime, especially the section "Of the
Mathematically Sublime." I say that cause i would genuinely like people to
look at this small section in order to help figure out if it is
relevant or not to my text.
http://etext.library.adelaide.edu.au/k/k16j/part7.html
3. You can visit the following website, to see an interesting discussion
www.artwurl.org/aw_interviews.html with Andrea, Ulrike, Alex, Valerie,
Maryam, Sharon, Ashley, Kara, and David. There should be an image with
Andrea Geyer "Parallax" under the link.