Notes about Presentations & Presentors

-----------------------------------
Aras Ozgun
-----------------------------------
Creative Industries: Neo-Liberalism as Mass Deception



In the past few years, we have observed the emergence of a new political discourse/program which quickly became influential in cultural policy making and public debates concerning the cultural production. This discourse defines the field of cultural production as primarily an economic field –by calling it as "creative industries", and often times appear as an economic development (or "survival") program at a practical level. But this pragmatism is actually a pseudo-scientific disguise for the substantially political nature of the discourse, which brings a practical imposition of a neo-liberal governmentality by intending to restructure cultural field through economic principles, assign the cultural producers an "entrepreneurial role", redefine the "creative process" itself and paradoxically bring the appropriational logic of capitalist economy to the necessarily collective practice of cultural production. What I intend to do in this presentation is to develop a critique of such discourse at a political level, and investigate it as a "bio-political intervention".
-----------------------------------
Ava Bromberg
-----------------------------------

"What about those little brown clusters, aren't they villages?" "Don't worry about those. Just show us your ideas." – Some reflections of Master Planning Cities in China

I recently returned from six weeks working in a large Chinese Urban Planning firm and think tank in Shenzhen, P.R.C. For this year's continental drift, I will draw upon my experience working on two major master planning projects – a factory town and a new airport city - to present the context for planning in China. My aim is to give a sense of the scale and pace of planning there, what is being built and what is being overlooked. In addition to drawing from what I learned and gleaned on the job, I will share some images and reflections on the human and social environments of Shenzhen – a city that developed from a village of 20,000 to a city of 10 million in the last 20 years. I hope a my presentation on Chinese urbanization processes (and my sense of where the crack and the opportunities are) can set us up to think broadly and deeply about what the interpenetrating (and co-productive) relationship between microenvironments and macroprocesses offers us for "articulating the cracks" in existing systems.

Question:
I have a favorite John Friedmann quote that is illustrative of my starting point, and how I choose to enter into this larger project to transform social relations that many of us are engaged in: "Without vision, no radical practice; without radical practice, no theory; without theory, no strategy; without strategy, no action."

I like this Friedmann quote because it acknowledges the need for vision-->on the way to-->action. Vision, in my opinion, is crucial to the radical reconstitution of existing social/spatial/economic/political structures - we have to know where we're headed if we want to figure out how to get there. I feel an urgency to ask not only what kind of spaces for developing vision (and values outside of profit-maximization) are available *right now*, but also how are they opened up and extended to "ordinary" people? What are some concrete examples? And/or some concrete possibilities? What types of spaces (physical and discursive) do they occupy /create? How do these spaces 'operate' and what is their role in the production and diffusion of social forms outside of capitalism?

Being personally, intellectually, and creatively (and in every other way) invested in each of these "phases" - vision, radical practice, theory, strategy, and action, we know that the critique is not enough. It is just the beginning. We draw from our micro-practices and experiments. And our critical analysis shows us *how* to (and that we must) move towards a vision of the world we want. But where (what sites) and by whom (which agents) will this vision - and the values it produces and is produced by - be developed? How might we more equitably distribute the opportunity for people to develop vision (and their potential) outside of capital markets?

-----------------------------------
Ayreen Anastas & Rene Gabri
-----------------------------------
Over the last year we have embarked on a wide reaching and ambitious journey aided by some very simple set of concerns/questions and an interest in changing the current political circumstances. We started by wanting to address the untenable situation facing the the detainees (and their families) held in Guantanamo Bay. Rather than view this as an exceptional case; however, we felt it was important to see how this"anomolous" camp shapes, underlines and conditions the norm.

To help start the process we began with a simple question, which is "How is it that a camp* like Guantanamo Bay can exist in our time?" This question is in some respects naîve, simple, or even rhetorical - but what it operates as for us - is a kind of trigger - to connect the circumstances that the detainees are facing in Guantanamo Bay, particularly in relation to the law, with others that may be much closer to the everyday life of people, whether in the US or in other countries.

Our research, our collaborations and discussions with specific individuals as well as our attempts to make some necessary connections landed us in the Middle East of Baltimore as well as Occupied Palestine and Israel. These became for us two particular cases in which the law applies by disapplying itself. Moreover, in each case, this exceptional relation to the law had specific spatial practices associated with it, which opened up our understanding of the camp as a paradigm of modern governance.

In these specific cases, a group of individuals is "targetted" as dangerous or threatening to a particular program or posited way of life. These targetted groups are then subsequently limited in their movement, their way of life, and to greater or lesser degree imprisoned, stripped of the basic rights afforded by the state or even international law.

Building further from these specific inquiries, this summer we embarked on a trip through the United States attempting to connect these three brutal instances (guantanamo, baltimore, palestine/israel) to recent and not so recent events in the US (e.g., Kent State massacres, former POW camps, internment camps for Japanese, Germans, and Italians, boot camps for youth, pre and post Katrian New Orleans, Native American reservations, high security prisons, ... ).

Our trip had elements of a research project and a campaign, but contained within it gestures, contacts, aesthetic moves, public interfaces and interventions, which unsettled even our notions of a so-called "artistic project" or "political project."

We hope to give a short presentation and to talk about where to locate our inquiries in relation to the paradigm of camp and the state of exception within our larger inquiries under the heading of Continental Drift.
Question:
How is it that a camp* like Guantanamo Bay can exist in our time? How can we connect this exceptional relation to the law (faced by the internees) to other situations, unfolding in detainment centers throughout the world, in the so-called "conflict in the middle east," and in our cities? What can we learn from these instances and how can we work with or use these insights within our politics, our political activity?

*internment, concentration, torture, death, political prisoners, pow, ...

-----------------------------------
Concerned Subject
-----------------------------------


Hazleton, PA
Two months ago the town of Hazelton, PA, passed the most aggressive anti-immigration legislation ("Illegal Immigrant Relief Act) in the United States, instituting harsh penalties for any employer or landlord having business dealings with undocumented workers, as well as declaring English the official language of the town and forbidding the translation of any official document into another language. These laws are a test case for 10 other municipalities that have followed to pass similar statutes and 32 towns or counties that are considering doing so. In a broader sense, it pertains to immigration reform in the US, immigration patterns into smaller cities, exurbs, and rural areas, and to projects seeking productive possibilities for local struggles in the face of right-wing populisms. The project is a public media and cultural campaign against this legislation. To do this, I hope to use a well-known fictive character to demonstrate the true ramifications of the current "zero tolerance" law. Namely, one of America's most-loved undocumented workers will not be able to visit this year (Santa Claus). The project will involve print advertising, viral video, an email/fax press release campaign, and a public performance. Due to a recent visit, ongoing research, and dialogue with groups opposing the legislation, as well as local citizens of all stances, my understanding of when or how the project should be deployed is still developing, Santa may not be the right direction to go with it. [Laws were scheduled to take effect today, but a federal Judge in Philadelphia just issued a 14-day restraining order today]:
http://hosted.ap.org/dynamic/stories/P/ PA_ILLEGAL_IMMIGRANTS_CRACKDOWN_PAOL-?SITE=PASUN&SECTION=ASIA&TEMPLATE=DEFAULT
Potential Readings:
These are factual more than theoretical and not directly about the town's legislation, but potentially informative to our discussion (if limited by their specificity to the US):
From Monthly Review:
"Harder Times: Undocumented Workers and the US Informal Economy"
By Richard D. Vogel
http://www.monthlyreview.org/0706vogel.htm
From Dollars&Sense:
"The Rise of Militant Migrancy"
by Immanuel Ness
http://www.dollarsandsense.org/archives/2006/0906ness.html

Question: How can we conceive of local struggles in a productive manner within the context of what we are calling Continental Drift? What strategies can be used to communicate or translate this to populations where the immediacy or urgency of these struggles on a local level may initially be disruptive to understandings of larger patterns and shifts. The underlying question is not so much one which seeks to maintain a notion of the local in the global, but really a pragmatic one involving how a field of action or involvement

-----------------------------------
campbaltimore
-----------------------------------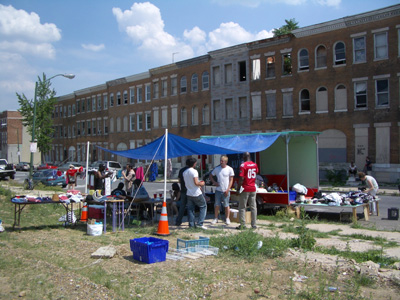 campbaltimore is an ongoing project based on research, communication and organizing with a commitment to building solidarities between different groups and individuals working for social justice. Its participants share an interest in understanding, confronting and changing the structural causes of socio-economic inequality in Baltimore and abroad. campbaltimore will share information about the current conditions of uneven development and socio-economic inequality in Baltimore and present documentation of projects and experiments that respond to these conditions through tours, social gatherings, educational programs, screenings, a newspaper publication and interventions in public space.

Questions
1. How can multiple groups working on different issues and initiatives recognize their common struggles? How can they form networks or coalitions to communicate and share resources while retaining their individual autonomy?
2. How can we produce experimental times and spaces that contribute to the formation of such relationships and solidarities?
3. How can we work within cultural and academic institutions while resisting forms of co-optation? How can we build sustainable practices outside of these
institutions?
4. How can we link local struggles against neoliberal urban redevelopment, gentrification, the privatization of public housing, the creation of ghettos, police
repression and the prison industrial complex with the global social movements against neoliberalism

-----------------------------------
Claire Pentecost
-----------------------------------
I would like to lay out some problematics and assay a few experimental principles for "how to be political" in our time. As a springboard I will respond to a couple of points in Melinda Cooper's essay "Pre-empting Emergence," and also connect thoughts from: recent theorization of affect; my own research in the politics of food; features of the work of Precarias La Deriva, Laurie Palmer, and others. The idea is to provoke specific outlines for inhabitable oppositional structures by venturing specific operational positions. I hope to provide a structure for a discussion which will engage the knowledge and experience of people at 16Beaver this weekend, hopefully yielding working tenets for ongoing and applied modification.

-----------------------------------
Daniel Tucker for AREA Chicago
-----------------------------------
AREA Chicago and Local Infrastructure Development

AREA Chicago is a biannual publication dedicated to researching and networking the art, education, and activist practices within the city of Chicago. A stated project goal is "to be a shared space to fuel, debate, refine, express and implement our collective goals for a more desirable and livable Chicago and world". Always addressing complex topics through the lens of local grassroots work, AREA Chicago has explored the themes of Privatization/Welfare Cuts, Local Food Systems, and social movement Solidarity History that connects local practice with the rest of the globe. Additionally, AREA Chicago sponsors three related projects: "Infrastructure Lecture Series" dealing with organizational/sustainability issues of activist and cultural groups and the "Peoples Atlas of Chicago: Sites of Relevance" mapping project which takes the form of workshops designed to create subjective and nontraditional maps of the city about different topics, and "AREA Books Imprint" - our most recent side project launching next year.AREA Regularly hosts and co-sponsors public events related to our contributors practices throughout Chicago.

-----------------------------------
The Friends of William Blake
-----------------------------------

http://www.counterrecruitmentguide.org

As a counter argument to the grinding machine of military recruitment during the Iraq War, fighting in Afghanistan, and elsewhere, a small collective of artists, writers, activists (The Friends of William Blake) have created The New Yorkers' Guide to Military Recruitment in the 5 Boroughs. This pocket-sized, sixty page book is a comprehensive guide to local military recruitment and resources for counter recruitment in NYC. Made in the spirit of The People's Guide to the RNC which we published in '04, this book is a small part in the worldwide effort for peace & justice and is opposed to the growing climate of fear & increased militarism in the USA.
The guide seeks to inspire hope while provoking conversation, informing potential recruits, and giving activists a new wrench in their toolbox. Features include: three "Soldier's Story" profiles of first Iraq War era troops, written from our interviews, a "Narrative Thread" Harper's style index on recruitment and the war, informative disclosures on military benefits, data about the military in schools, ROTC & JROTC, borough maps showing location the 'militarized zones' in New York's neighborhoods. Legal resources, media outlets, and counter-recruitment organizations are listed and there is information on "how to create this book in your community."
Over 7500 copies of The New Yorkers' Guide to Military Recruitment in the 5 Boroughs have been distributed for free to students, parents, counselors, potential recruits, concerned citizens and activist organizations in the NY metro area, across the country & internationally. This publication is copy-left.


-----------------------------------
iKatun
-----------------------------------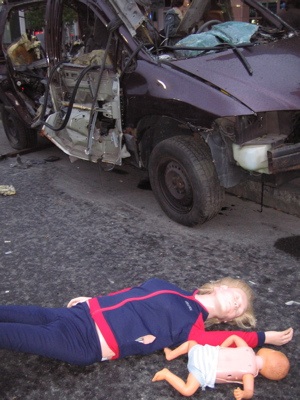 Image caption: Fake Dead People with Car Which Was Not Blown Up By Terrorists. The car was blown up in the desert and shipped to Kennedy Plaza in Providence to simulate a terrorist car bomb. Pieces of the car were placed throughout the plaza to mirror where they would have gone had the car really been blown up in the plaza by terrorists and not in the desert by Alcohol, Tobacco and Firearms agents

Question:
I'm not sure we have such a great question but here is what I think we would be interested in hearing more about -- Where is culture (and propaganda, manipulation, coercion through media) in the discussions of continental drift? As iKatun, we are interested in the ways that information is wielded to produce affect and emotions that then seep into everyday life in the ways that we vote, travel, eat, drink, play, work, etc.

Stand Up Stand Still
Stand Up Stand Still is a global participatory performance organized by iKatun with Andi Sutton. The 50-hour performance will invite people around the world to "stand up" in various ways against the culture of fear on September 12th, 2007. We want to talk briefly about what we mean by the culture of fear. Then we will present the performance, how it will work, and pose questions to gather feedback and ideas on how to make it happen as widely as possible. This will be a short presentation/discussion.

-----------------------------------
Jesal Kapadia
-----------------------------------
Information forthcoming.
Talk will be related to a recent project which addresses the neoliberal economics through outsourcing and a journey that goes from Texas and New Jersey to Dubai and Bombay.

-----------------------------------
miss rockaway armada
-----------------------------------
http://www.missrockaway.org/
The Miss Rockaway Armada is a group of approximately 25 performers and artists from all over the country including members of the Toyshop Collective, Visual Resistance, The Amateurs, The Floating Neutrinos, The Infernal Noise Brigade, The Madagascar Institute and the Rude Mechanical Orchestra. This July we converged in Minneapolis to construct a flotilla of rafts that will journey down the Mississippi River. We're stopping in towns along the way, hosting musical performances and vaudeville variety-theater in the evenings, along with workshops and skill-shares centered around arts and environmental issues during the day. In our travels we intend to share stories and to solicit dialogue around subversive and constructive ways of living. We are a group of intrepids who believe in a hands-on, live-by-example approach to creating change within our culture. We are taking cues from Johnny Appleseed, traveling medicine shows, nomadic jewel box theater, and of course that old radical Mark Twain.
-----------------------------------
Naeem Mohaiemen
-----------------------------------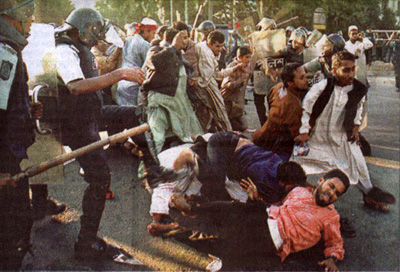 Hawthorne Effect and Muslims or Heretics: My Camera Can Lie?
When part of an audience that refuse directed activism ("this is what you should care about") and limited spheres of influence, the viewer becomes hyper-aware of other, future audiences. The unfortunate coincidence of screening this film at the same time as a global media flap over the Abu Ghraib images turned each screening into a referendum on US foreign policy. A Dhaka audience refused to give an "authenticity" blessing. Instead, their articulated counter-argument was that issues internal to Bangladesh, specific to a rightist Islamist agenda, could not be debated until US human rights abuses were addressed and remedied.
Naeem Mohaiemen's other work can be seen at http://disappearedinamerica.org

-----------------------------------
Pedro Lasch
-----------------------------------
Indigenous Immigrants: overlapping resistances and analogous exclusions
A presentation of work done by various groups, individuals and organizations that connect to both of these movements and with whom there is already a common experience of drifting.

back