10.06.2003
Comments Off

on Friday Screening/Discussion (Vilnius) — 10.03.03 — Ayreen Anastas & Rene Gabri
Friday Screening/Discussion (Vilnius) — 10.03.03 — Ayreen Anastas & Rene Gabri
Contents:
1. About this Friday
2. Short Description for m* bethlehem (ayreen anastas)
3. Short Description for movements (rene gabri)
4. Short Bio (Ayreen)
5. Short Bio (Rene)
http://www.16beavergroup.org/monday
__________________________________________________
1. About this Friday
What: Screening + Discussion with AA and RG
Who: All are Welcome
When: 7:00 pm
Where: Contemporary Art Centre (Vilnius)
Many of the artists involved at 16Beaver continue to work on their own
individual projects. This Friday's event will feature a screening of two
of these recent projects.
Ayreen Anastas will be screening her recent video "M* of Bethlehem" (shot
in Occupied Palestine) and Rene Gabri will be screening and narrating
(live) his video "Movements" (shot in Armenia).
Rather than create a thematic link in advance between the two works, we
would rather show them and have a discussion afterward.
This will be the first time that the two works have been screened together.
________________________________________________________
2. General Video Information m* of Bethlehem


Ayreen Anastas
m* of Bethlehem 2003
Video, color, sound; 21 minutes
m* of Bethlehem is a video map of Bethlehem in January 2003, inspired
by a map of the city from 1973. It concerned what was absent and what
was represented on the map in relation to the actual site today. Views
include streets during times of curfew, a refugee camp, an encroaching
Israeli settlement, and signs posted on olive trees warning that the
land will soon be confiscated.
*m = meaning also map
________________________________________________________
3. General Video Information for movements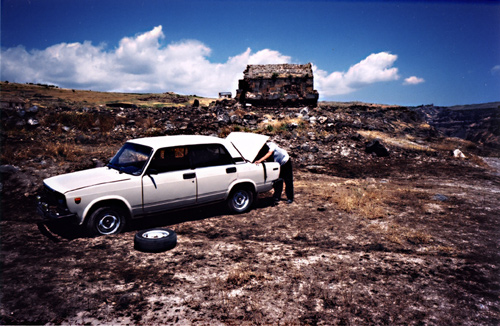 Rene Gabri
Movements 2002
Video, color, sound; 42 minutes
In 2001, the Iranian born artist made his first journey through Armenia. Marked by a mass exodus of its population due in large part to the socio-economic fallout after the decline of the Soviet Union, and still devastated by the trauma of the earthquake in 1988 and the war with Azerbaijan, the people of Armenia have been facing what continues to be an untenable situation. As with most countries on the 'losing' side of capitalism, Armenia continues to be characterized as a nation in 'transition', 'developing', but more often it seems stalled, along a roadside, unable to move forward or backward, waiting interminably for the arrival of what is to come. The video, a kind of experimental road movie, interweaves extended tracking shots with interviews of road workers, wanderers and hitchhikers, and still sequences of half destroyed churches, half built buildings, empty apartments, cafes, and roadside kabob houses; all the while, tracing the movements of/through a people/country 'in transition' and in between (an end and a beginning).
________________________________________________________
4. Short Bio (Ayreen)
Ayreen Anastas was born in Bethlehem Palestine. She relocated to Germany in 1989 for a DAAD scholarship where she studied architecture at the Technical University in Berlin until 1996. She is currently living in Brooklyn.
She has taught architecture at Pratt Institute in Brooklyn since 1999 and is one of the primary organizers of the 16Beavergroup, an artist community that functions as a social and collaboration space on 16 Beaver street. Activities include: Organizing panel discussions, film series, artist talks, events calendar, radio recordings and reading groups.
Her recent artistic projects and exhibitions include: 'm* of Bethlehem' (shown in Homeland: Whitney ISP exhibition at CUNY and Multiplex at Smackmellon in DUMBO), 'The Library of Useful Knowledge', an audiovisual archive at Inside Out Festival at the Bunker in Berlin. and collaborations with the artist Rene Gabri (Artistalk, RadioActive, United We Stand).
Together with Gabri, she co-organized 'Operation How, Now, Wow: A festival of dissent.' See www.Operationhow.org and 'Their Plan Versus Our Plan.' A panel on the culture of resistence, with Martha Rosler, Nina Felshin, Bill Talen, and Stephen Duncombe in April 2003.
Publications include 'A Novel of Distractions' together with Ella Klaschka and 'Oxford English Dictionary – the Useful Edition', which was published as an artist intervention in the magazine 'Rethinking Marxism'. Volume 16, July 2004.
Useful Websites:
Radioactive
http://www.16beavergroup.org/radioactive/
United We Stand
http://www.16beavergroup.org/radioactive/united.htm
Homeland Security Cultural Bureau
http://www.hscb.org/
16 Beaver Group
http://www.16beavergroup.org/
Operation How, Now, Wow!
http://www.operationhow.org/
________________________________________________________
5. Short Bio (Rene)
Rene Gabri, born in Tehran, moved to Athens, then Los Angeles, now based in New York. His solo projects, are largely based around the mediums of film, video, audio and text. He has been exploring a broad range of topics including cities, memory, confession, popular culture, television, music and issues related to in-between-ness and drifting in general. In addition, to his solo projects, he has been involved with and initiated a broad range of collaborative situations and frameworks.
At the conclusion of the Whitney Museum's Independent Study Program in 1999, Rene was involved in setting up 16Beaver (16beavergroup.org). Since that time he has been actively involved in maintaining an ongoing platform and space for independent critical, cultural, political inquiry and friendship. His projects with Ayreen Anastas have evolved a great deal through their work at 16Beaver. Their Radioactive Discussion series was a physical counterpart to their fictional Homeland Security Cultural Bureau (hscb.org) project. Together with Erin McGonigle and Heimo Lattner, he also works with the name e-Xplo (e-Xplo.org). Creating projects which often involve mapping, exploring, and developing a vocabulary for particular sites.
Most recently he has taught at University of Architecture in Venice and the City University of New York in Staten Island.